It's often challenging for Home Medical Equipment (HME) providers to scale. Implementing technology that enables improved operational efficiencies is key to growing, scaling, and meeting profitability goals. An integrated technology solution that serves the needs from warehouse workers to decision makers helps advance all areas of operations simultaneously.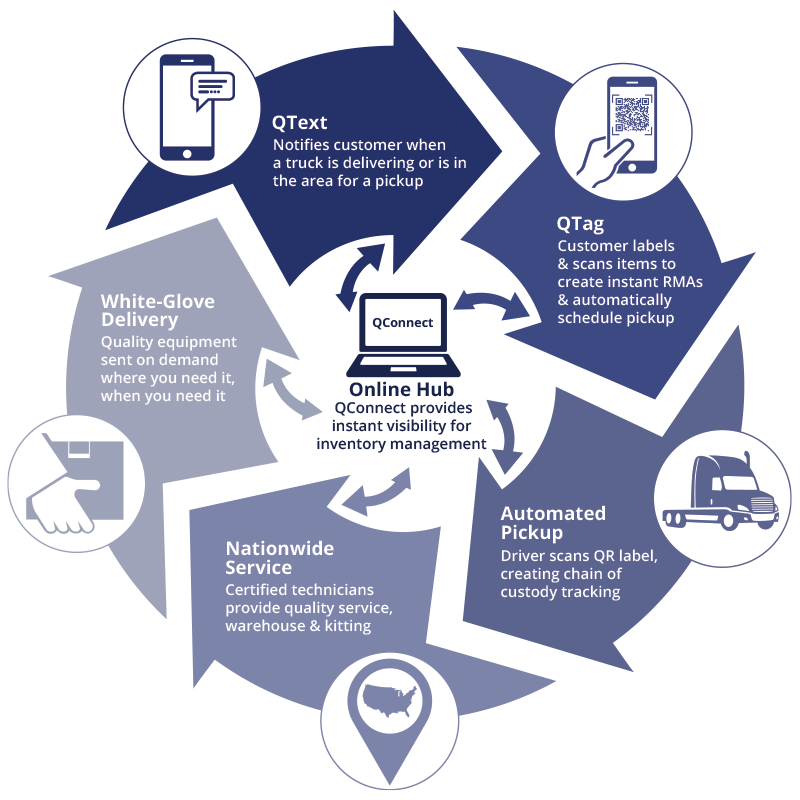 That's precisely how Quality Biomedical designed our suite of QTech™ service technology solutions. Using this technology, the process of managing respiratory equipment repair becomes streamlined throughout the entire process, providing real-time, accurate data. The outcome is a simplified and faster path to increased profits. Let's take a look at how this technology impacts the warehouse worker and the manager alike.
Operational Efficiencies in the Warehouse
With worker shortages, tools that save time are critical. When it comes to scheduling equipment that needs preventative maintenance or repair, there are typically multiple communication points between the warehouse worker and the repair company to schedule pickups and deliveries. With multiple workers on the floor, this can easily become a "single point of failure" in communication.
QText™notifications create a better workflow. Everyone with the Quality Biomedical app on their mobile device can see the same notification and response. It is a single electronic source that documents communication and is continually up to date. The warehouse team knows when a driver will be in the area and can easily schedule pickup and deliveries, and there is an electronic trail of everything that has been communicated to the Quality Biomedical team.
What's more, the HME's warehouse team can then use the QTag™ service labels feature in the same app to scan each device that needs service. They simply apply a QR code sticker provided by Quality Biomedical to each device and scan the code with their phone or iPad. An RMA is created instantly, notifying Quality Biomedical what items are needed for repair and automatically scheduling a driver for the pickup. This process saves so much time over searching for serial numbers and creating RMAs that some customers have dubbed it the "quicker sticker."
Not only does it make the process fast and easy, it also creates an electronic chain of custody. When the driver arrives, they scan each QTag label, logging it into Quality Biomedical possession with time and date stamps. Anyone with the app can see where that device is at any point in time — no more searching for missing devices. Because the driver matches what the warehouse worker has previously scanned, the process is fail proofed so that only scanned items are retrieved and nothing is mistakenly removed.
This technology makes audits a breeze because record keeping is easily accessible in the cloud. No more file cabinets, slips of paper, or lost written receipts, and no more time wasted laboriously trying to compile paper records.
Improved Inventory Decision Making for Management
Let's shift roles and see how this technology aids those in management. The QText and QTag information from the mobile app used by the warehouse workers is stored in the cloud and accessed through the QConnect™ online portal. Branch managers and centralized executives alike have real-time visibility to their respiratory equipment inventory with just the click of a mouse.
This means that — for perhaps the first time — they have visibility to all of their respiratory assets across all locations from their computer. Plus, API integrations with Brightree or custom-designed systems are a breeze. With this accurate data, managers can now look at asset trends such as:
Asset Utilization

Which devices are used more?
Are certain devices failing more at patient's homes?
Are certain devices needed more in a particular location?
Are we prepared for an emergency demand situation?

Asset Velocity

How long are devices in service?
Which devices are in service more often?
What percentage is on-rent?
Is there excess or unbalanced inventory across locations?
Which devices have long repair turnaround times?
Visual cues such as reports and graphs can be generated and trends identified. We call this "tech-enabled intel" and it is the key to maximizing revenue per unit. With this data, decisions about capital expenditures are better informed and easier to make. Rent vs Buy? Repair vs Replace? Inventory management or branch inefficiencies? The answers are found in the data that is now available with the click of a mouse.
Summary
It's one thing to have the ability to repair devices, and even another to have the ability to do it efficiently. It's an entirely different level when the foundation of equipment servicing is supported with seamless technology that serves stakeholders at all levels, making their jobs faster, easier, and more effective — components required to scale a business!
Quality Biomedical is not only committed providing high quality repairs and rentals nationwide, but we are dedicated to help solve challenges that our customers face. That is why we purpose-built this technology solution and provide it at no additional charge to all of our customers. It's one of the reasons Inc. Magazine named Quality Biomedical the 155th fastest-growing health service company in the country. We are truly customer-focused. If you're not working with us or you're not sure if you're using our technology to your full advantage, give us a call. We want to help you grow and succeed. The right technology is the foundation to meeting those goals.