Inventory control is an essential element of the equipment repair process, and in order to maintain that control, oftentimes the best system is one that requires as little human intervention as possible. Typically, when equipment is in need of repair, the process for issuing an RMA is anything but automated, and involves finding and documenting the serial number of each device. Unfortunately, it can sometimes be a real hassle just to find the serial number on devices, since it is sometimes located INSIDE the unit! If it is found, transcription errors are not uncommon.
Out of sheer frustration, many warehouse managers end up throwing up their hands, and call us and say, "we've got 23 devices for pick up." Without a way to consistently and accurately document the device serial numbers going out for repair, they are opening the door to inventory inaccuracies.
While the rest of the world is trying to solve these issues by having the drivers who pick up the equipment create a paper trail, Quality Biomedical has come up with a better, 21st century solution. Using our exclusive QTag™ service labels, our customers are able to easily apply a unique QR-coded sticker to each device they need repaired or serviced. It is then scanned with an app on their mobile device which automatically initiates a pickup request to the Quality Biomedical team. When our drivers arrive, only the labeled and pre-scanned items are visible for pickup.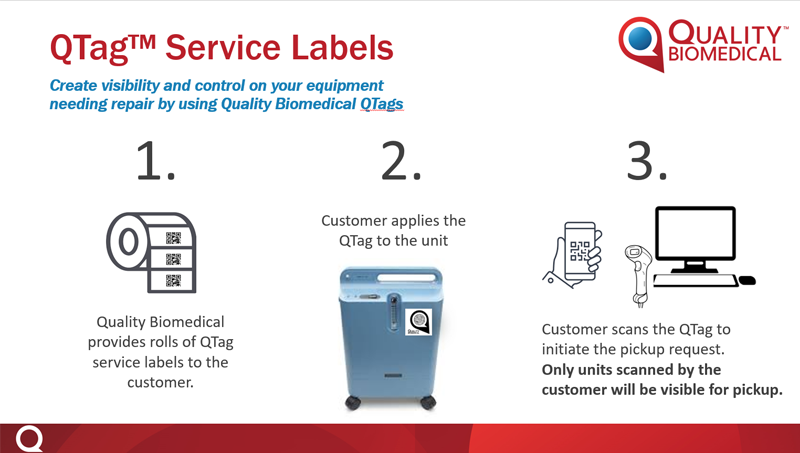 These new service tags not only save you time by eliminating the need to manually locate and log serial numbers, but also provide seamless documentation and inventory control accuracy — with no extra work on your side. They're so fast and easy, some people have dubbed them "quicker stickers."
QTags make initiating repairs really simple. And, since their status tracking is done through our proprietary QConnect platform, you know exactly where your equipment is, every step of the way. The secret behind the speedy, highly-automated and efficient process lies in Quality Biomedical's behind-the-scenes infrastructure. We manage millions of assets, service hundreds of unique models, and can create an RMA in seconds! Those are some of the reasons Inc. Magazine recently named us the 155th fastest growing health services company in the nation.
Thousands of customers have turned to Quality Biomedical because we're all about building better-managed workflows. In this unprecedented time of workflow and supply chain challenges, we're saving our customers money, and making life easier for OEMs, HMEs, LTACs, and other healthcare providers.
It's a new era for medical equipment management. Give our team a call. We'd be happy to help you introduce a workflow that gives you accurate info on demand and will reduce your costs and streamline logistics.